Beit Al Atlas (بيت الأطلس)
The name refers to the Atlantic Ocean (بحر الأطلس) . A vast space which encompasses great difference. Touches east, touches west and holds it all in a unified self sustaining ecosystem.
About the house:
Beit Al Atlas is a community house based in Beirut Lebanon. Our mission is to stretch ourselves to live across difference. We are a semi-public semi-private space. Our upstairs and rooftop area are open for workshops and events with an emphasis on activities which embody and enact some of our core mission. The first floor of our house is reserved for the 5 residents.

We're also establishing a residency in our second floor public area for those who want to come to Beirut and live for shorter durations and contribute in a deeper more meaningful way. To meet with the reality of this city we've grown to love.
Please reach out on out facebook page if you're curious to rent our public area, considering living with us, or simply want to come by for tea. We're always open for tea.
Photo from an evening discussion:
Some of our extended family:

Rooftop Coworking: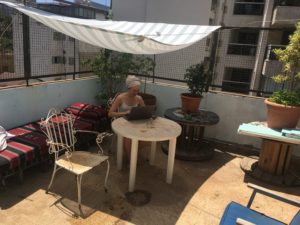 A Core Member Of Our House… Lulu:
And who could forget Mumkin The Turtle (And Mohammed Al Haija):